'An Entire System Is Changing': UW Medicine Stops Using Race-Based Equation to Calculate Kidney Function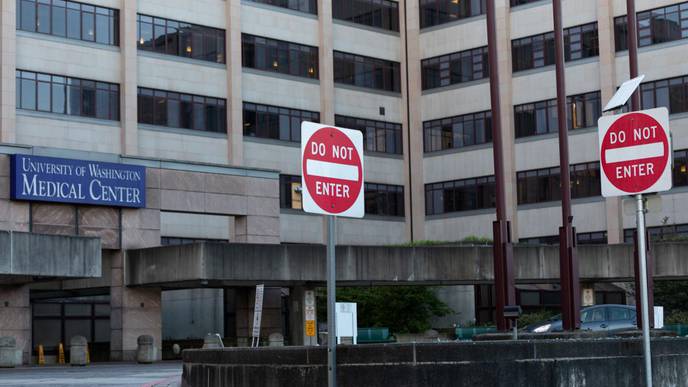 07/07/2020
Photo: Conor Courtney
Many laboratories across the country use the Modification of Diet in Renal Disease (MDRD) equation, which calculates a patient's estimated glomerular filtration rate (eGFR) — or how well the kidneys filter — based on their creatinine levels. The eGFR value is then reported with race as a correction factor depending on whether the patient is Black or non-Black.
After years of efforts led by UW medical students to remove race as a variable in measuring kidney function, UW Medicine announced May 29 that its laboratories will transition to the Chronic Kidney Disease Epidemiology Collaboration (CKD-EPI) equation, which excludes race as a variable.
The MDRD equation was the first equation to be widely used, but Dr. Rajnish Mehrotra, interim head of the division of nephrology, said the use of race as a precision variable doesn't have a justified scientific purpose.
"The problem is that this equation was derived from cohorts of a few hundred to a few thousand people and produced a tighter fit for the estimation of GFR in the dataset," Mehrotra said. "But then we rolled it out to millions of people where race, the variable seemingly adding precision, is very imprecise and not a biologic variable."
Mehrotra said one of the reasons institutions may still support the race-based equation is the concern that eGFR values for Black patients will be lower than they actually are if the race coefficient is dropped, which may lead to further clinical consequences.
Mehrotra said, however, it's worth noting that eGFR is just one of many considerations factored into medical decisions, and supporters of the current approach should still acknowledge the imprecision that comes with race as a variable.
Naomi Nkinsi, a third-year medical student, said there are also many racist implications of using a race coefficient in the MDRD equation, one of which is the scientifically false notion that the kidneys of Black people are physiologically different from others.
Although the student-driven initiative to question this protocol began long before Nkinsi got to medical school, she said racist clinical and teaching practices were still noticeable early on.
In a lecture during her first year, Nkinsi said students were taught that Black race was one of the important variables in the kidney function equation but weren't provided with the reasoning behind this or its implications. She said she took the opportunity to speak up about it in front of her class.
"What resulted was a heated discussion about race and many unanswered questions," Nkinsi said. "It became so tense, in fact, that later that week, another lecture was held with an invited nephrologist to address what had occurred in the previous lecture, but again nobody could explain how a person's race could impact the physiology of their kidneys."
From there, Nkinsi pushed for further discussion outside of the classroom, alongside other students and faculty members like Mehrotra. When UW Medicine decided to lead an investigation, Nkinsi said, it concluded that the race component of the MDRD equation did not meet the necessary scientific rigor to validate its continued use.
As of June 1, UW Medicine laboratories are transitioning to the CKD-EPI equation, which is based on serum creatinine, age, and sex. Other institutions, including Beth Israel Deaconess Medical Center, Massachusetts General Hospital, and Brigham and Women's Hospital, have also made this change, Mehrotra said.
Since then, Mehrotra said several institutions around the country have reached out to UW Medicine, and he anticipates a significant number of them will make this transition in the months ahead.
"The UW Medicine community is at the leading front of change on this issue, and I am incredibly proud of how this change came about with medical students questioning long-standing practices," Mehrotra said.
As UW Medicine continues to address other racial biases, Nkinsi said it's incredible to know that medical students have the ability to contribute to important changes.
"I had people tell me that I was disruptive or unprofessional for questioning our lecturers and pushing this discussion so frequently," Nkinsi said. "But because I didn't stop, an entire system is changing. That's powerful."