Despite COVID Outbreaks, Youth Sports Played On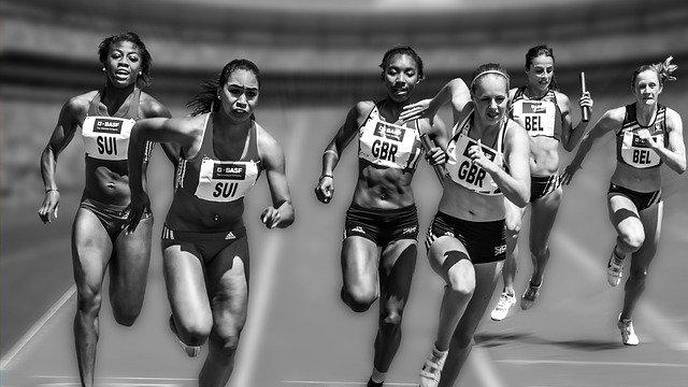 03/18/2021
msn.com
As a coach in a sport where social distancing is impossible, Andrew Nicola said he did all he could to keep the students on his wrestling team safe during the pandemic — following rules on restricting spectators, disinfecting mats between rounds, and requiring wrestlers to change into clean singlets between every match.

So he was alarmed in January when his team from Brother Martin High School in New Orleans arrived at the Louisiana Classic wrestling tournament to find crowds of spectators clustered tightly together, with many not wearing masks.
Mr. Nicola angrily demanded that tournament organizers kick out the people who were not following the rules. "I went up to them personally and said, 'You need to fix this, and it was not fixed,'" he recalled. "I was very upset because I knew this one was going to cost us."
Less than a week later, more than 20 students, staff members, and spectators who attended the tournament had tested positive for the coronavirus, an outbreak that prompted Louisiana sports officials to suspend the rest of the wrestling regular season.
A year after the coronavirus crisis first closed athletic fields and darkened school gyms, students, parents, coaches, and officials have struggled to navigate the challenges of youth sports, weighing concerns about transmitting the virus against the social, emotional, and sometimes financial benefits of competition.
For months, a tangle of rules and restrictions that vary by state and sport has forced players and coaches to adapt. Vaccine rollouts and warmer spring temperatures have prompted some states to lift mask mandates and loosen guidelines, but health experts continue to urge caution for young athletes amid the spread of possibly more contagious variants of the virus.
Officials have linked Covid-19 outbreaks to ice rinks in Vermont, Florida, and Connecticut, while a January report from the Centers for Disease Control and Prevention found that two high school wrestling tournaments in Florida led to nearly 80 people becoming infected with the virus, including one adult who died. In Minnesota, at least 68 cases since late January have been linked to participants in school-sponsored and club athletics, including hockey, wrestling, and basketball, according to the state health department.

In at least some cases, the spread did not occur during the competition, but at team-related gatherings. Recent data from the N.F.L. and the C.D.C. found that shared transportation and meals were the most common causes of the virus spreading among sports teams.
"It's not an appropriate time to invite people over for a postgame pizza party," said Dr. Susannah Briskin, an associate professor of pediatric sports medicine at Rainbow Babies and Children's Hospital in Cleveland.
Dr. Briskin is at the center of the debate over youth sports — both at work and at home. She helped write recent recommendations from the American Academy of Pediatrics that young people wear face masks both during games and when traveling with teammates. (The group allowed some exceptions for contact sports where masks could be a choking hazard and individual sports where athletes can maintain a safe distance outdoors.)
But when her 11-year-old son's soccer league put into place an indoor mask mandate after the association's guidance was published in December, Dr. Briskin said, "they had so much backlash, they backed out and made it optional."
His club kept the requirement, so she let him keep playing. And her teenage daughter's school basketball team requires masks during practices, she said — though not on the court during games, her daughter wears one anyway. Both of her children are learning remotely, Dr. Briskin said and needed the athletic outlet.
"It was very important to have them out doing a social activity, and getting physical activity, but trying to encourage it in the safest way possible," she said.
Many experts agree that youth sports are important for both physical and mental health. That has meant school athletics have continued in some places even when students are learning virtually. And some schools and sports associations, including those in Ohio and New Jersey, also loosened academic eligibility requirements for student-athletes. In Kentucky, a bill in the State Senate would let students redo a year of classes to make up for academic losses, while also granting high school athletes the fifth year of eligibility.
Audrey Mann, 17, a high school senior in New Orleans, has not been inside a classroom since last March. She chose to remain a remote student even after the city's school buildings reopened in the fall, before closing again during a surge in cases and then reopening in recent weeks.
But there was no way she was giving up athletics, Audrey said. She played volleyball and soccer in the fall, and softball and tennis now fill her afternoons after school, followed by club soccer practices that go until 8:30 p.m. Her weekends are similarly packed with club soccer games, which were moved to the spring as a result of fall pandemic restrictions.
"Sports for me is a huge mental thing," said Audrey, who has a 4.0 grade-point average and is a captain of her three varsity teams. "I need to exercise and get out. It's the only way I'm social over this past year."
For parents, the potential impact of athletics on their children's futures often played a role in decisions about playing time.
Willandria Middleton, a high school librarian in Montgomery, Ala., worried about the repercussions of forbidding her son, William, 17, from playing high school football. "Everybody was afraid, like, 'Oh my God, if he gets it he might die,'" she said. "But I thought, well, to keep him from it — would that kill him as well, if he can't play what he loves?"
Her son's high school is more than 80 percent Black, and she said she agreed with William's coaches that football provided a much-needed structure for him and his teammates. "A lot of our young Black boys who play football here in Montgomery, that's all they have to do," Ms. Middleton said.

There were virus cases at William's school, and at least four school district employees, including one of his coaches, died after battling Covid-19. But the football team finished the season without any outbreaks — perhaps, William said, because his head coach required the players to wear masks everywhere and prohibited them from attending in-person classes. "If you weren't at practice or games, he didn't want you out."
For William, the pandemic season paid off. In December, he received a football scholarship to a junior college in New Mexico. "I just wanted to use my ability so my mother didn't have to pay for me to go to college," he said.
Some children and families, though, made difficult decisions to sit out the year.
Tyler Bihun, 18, a high school senior in Bloomington, Ill., and his twin brother have played hockey together for about 13 years. But they decided to stay off the ice after seeing opposition to face masks at their local indoor rink. "We just didn't think it was very safe, and we didn't want to expose our parents," Tyler said.
The brothers also chose remote learning despite an option to return to classrooms two days a week.
Looking back, Tyler said he had no regrets. The travel team he used to play on had a Covid-19 outbreak that forced the cancellation of practices and games, and one of his former teammates was seriously ill for two weeks, he said. "I miss hockey, but giving it up was definitely the right decision."
In Louisiana, where the wrestling season was disrupted by the tournament outbreak but the state championship was still held, athletes and coaches were forced to adapt to a slew of safety protocols. Handshakes were banned, and social distancing and face masks were required when students were not competing.
Julie Castex, a clinical nurse specialist in New Orleans who works in infectious-disease research, said letting her son, Ethan, 18, wrestle during his senior year of high school came down to a "risk-benefit ratio." The family ultimately decided that keeping him off the mats would do too much harm to his mental health.
"It's scary because you're letting your son compete in a very contact sport," she said. "And while you're looking at the data and thinking that he's probably fine at his age, there is a risk. But everything else essentially has been taken away his senior year, and wrestling is pretty much all he got to do that was normal."
Eddie Bonine, the executive director of the Louisiana High School Athletic Association, said officials have worked hard to protect students and staff members but acknowledged there have been bumps in the road.
"Our schools have been doing the best they can, and it's not always working right," Mr. Bonine said, adding, "Once people get in the doors, some of the masks come off."
Still, he said the state's overall record had been good, and that although more than 4,700 people attended the state wrestling championship in late February, no cases were reported. "We're learning how to live with this virus," he said.