Dr. Qin Wang Will Lead New Program for Alzheimer's Therapeutics Discovery at MCG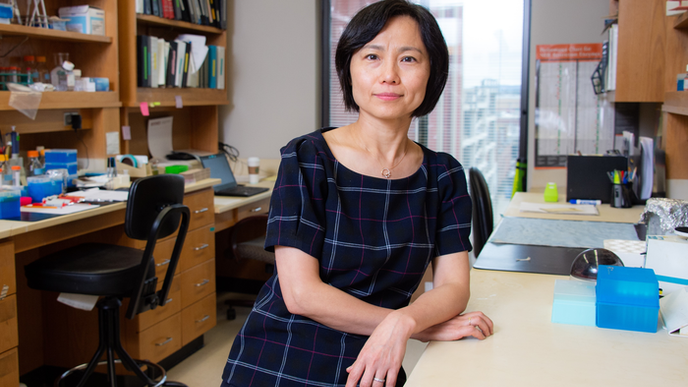 01/24/2022
Photo: Dr. Qin Wang
Dr. Qin Wang, an expert in molecular neuropharmacology and signaling research exploring how cell surface receptor signaling regulates healthy brain function and contributes to neurological and psychiatric disorders, has been named the inaugural director of the Program for Alzheimer's Therapeutics Discovery at the Medical College of Georgia.
"The Alzheimer's Association tells us that more than six million Americans already are living with this devastating problem, a number that is likely to more than double in the next few decades," says Dr. David Hess, MCG dean. "With great support from the Georgia Research Alliance, Dr. Wang will enable us to more strategically address this pervasive condition generally associated with aging and help us identify better therapeutic and prevention strategies that improve people's lives."
"Qin Wang is a superstar who has already moved the needle significantly in Alzheimer's research," says GRA President Susan Shows. "She has deepened understanding of the toxic cascade in the brain that contributes to the disease, and she has discovered new avenues for treatments. Georgia is fortunate to add her great breadth and depth in pharmacology to our university research portfolio."
Wang joins the faculty of the MCG Department of Neuroscience and Regenerative Medicine April 1. She is an MD/PhD who completed her postdoctoral studies in pharmacology at Vanderbilt University, joined the faculty there then moved to the University of Alabama at Birmingham in 2005 where she is currently a professor in the Department of Cell, Developmental and Integrative Biology.
She is a member of the American Heart Association Councils on Basic Cardiovascular Sciences and High Blood Pressure Research. She has served as a regular member of the National Institutes of Health and AHA Molecular Peer Review Study Groups. Wang also has served as a grant reviewer for the Alzheimer's Association for more than a decade and has served on the Scientific Advisory Board of the Alzheimer's Disease Congress and on the Executive Committee of the American Society for Pharmacology and Experimental Therapeutics' Molecular Pharmacology Division. She is permanent associate editor for neurodegeneration for the journal Frontiers in Neuroscience.
Dr. Wang is currently principal investigator on three National Institutes of Health grants and contact PI on two additional multi-PI NIH grants. She was among the top 20 out of 869 NIH-funded PIs in the nation's anatomy/cell biology departments in 2020.