FDA Approves Nedosiran Injection for Children and Adults with PH1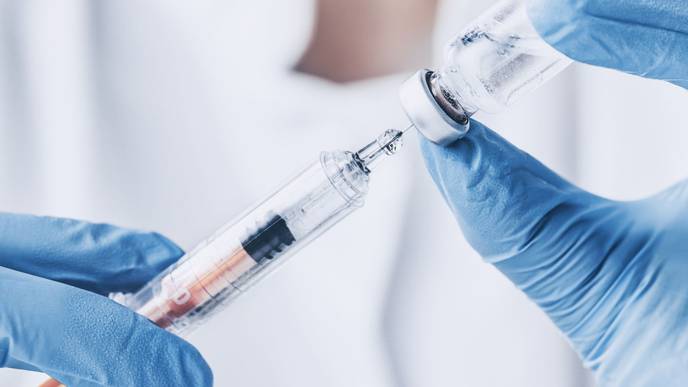 10/04/2023
The FDA approved Novo Nordisk's nedosiran (Rivfloza) injection 80 mg, 128 mg, or 160 mg, a once-monthly subcutaneous RNA interference (RNAi) therapy. The drug is designed to lower urinary oxalate levels in children 9 years or older and adults with primary hyperoxaluria type 1 (PH1) and relatively preserved kidney function.
Vials of liquid on a white table and the logo of a large pharmaceutical company | Image credit: diy13 - stock.adobe.com
"The FDA approval of Rivfloza builds on Novo Nordisk's legacy of advancing research, fostering innovation and creating strategic partnerships to expand treatment options in rare diseases," said Blandine Lacroix, senior vice president, strategy and rare disease at Novo Nordisk Inc, in a statement.1 "We are committed to driving change on behalf of people living with rare diseases and helping address the significant unmet needs of the PH1 community. We look forward to making our first RNAi treatment available to people living with PH1 and the health care professionals partnering on their care."
PH1 is the most clinically prevalent and severe form of this rare genetic disease, which known to cause overproduction of oxalate by the liver. PH is estimated to affect 1 in 38,600 individuals worldwide, and roughly 80% of these patients have PH1. An estimated 2000 individuals in the United States are living with PH1, which is a progressive metabolic disorder that primarily affects the kidneys and can lead to worsening kidney damage.
The FDA approval was based on the results of the pivotal, randomized, double-blind phase 2 PHYOX2 clinical trial (NCT03847909),2 as well as interim data from the ongoing long-term, multidose, open-label phase 3 PHYOX3 extension study (NCT04042402).3
In the phase 2 study, 35 patients with PH1 or PH2 were enrolled to receive either nedosiran (n = 23) or a placebo (n = 12) once a month for 6 months. The researchers showed that patients treated with nedosiran experienced a significant reduction from baseline in 24-hour urinary oxalate excretion from day 90 to day 180 of treatment. An area under the curve (AUC) analysis revealed the least-squares mean between-group difference was 4976 (95% CI, 2803-7149; P < .0001) between the nedosiran and placebo groups over 90 days.
However, some individuals reported adverse reactions to the drug due to injection site reactions, which occurred in 20% or more of patients.
Additionally, interim findings from the phase 3 study showed that the reduction in 24-hour urinary oxalate excretion remained consistent in the 13 patients with PH1 who had received an additional 6 months of treatment.
"RNA interference is a proven treatment approach for individuals with PH1," David S. Goldfarb, MD, clinical chief of the nephrology division at NYU Langone Medical Center and professor of medicine and physiology at NYU Grossman School of Medicine, said in Novo Nordisk's statement.1 "With the approval of Rivfloza, we now have a novel treatment that lowers oxalate production safely and effectively. Using the GalX RNAi platform, Rivfloza targets the liver-specific lactate dehydrogenase enzyme, which is the final step of oxalate production in PH1."
These studies and the new FDA approval signify the increasing incentives for pharmaceutical companies to invest in research focusing on patients with rare disease.
"We appreciate Novo Nordisk's commitment to rare disease and welcome the addition of Rivfloza as a new treatment option that provides those 9 and older living with PH1 and their loved ones with more choices when working with their healthcare professional to select what treatment pathway is best for them," Kim Hollander, executive director of the Oxalosis & Hyperoxaluria Foundation, said in the statement.1
References
1. FDA approves RivflozaTM for children ≥9 years old and adults living with primary hyperoxaluria type 1 (PH1), a rare genetic condition. Novo Nordisk. October 2, 2023. Accessed October 2, 2023. https://www.novonordisk-us.com/media/news-archive/news-details.html?id=166325.
2. Baum MA, Langman C, Cochat P, et al. Phyox2: a pivotal randomized study of nedosiran in primary hyperoxaluria type 1 or 2. Kidney Int. 2022;103(1):207-217. doi:10.1016/j.kint.2022.07.025.
3. Long term extension study in patients with primary hyperoxaluria (PHYOX3). ClinicalTrials.gov. August 1, 2023. Accessed October 2, 2023. https://clinicaltrials.gov/study/NCT04042402.