Making Untreatable Vision Problems Treatable: WVU Receives $11M for Visual Sciences Research Center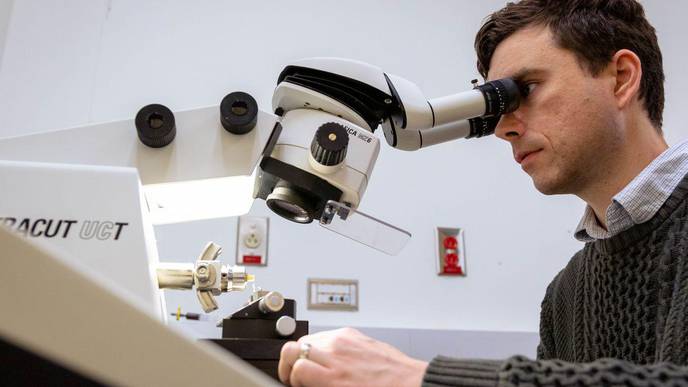 05/06/2022
Photo: Zane Lacko
With a new $11 million grant from the National Institutes of Health, West Virginia University has become just the second university in the country to receive funding for a visual-sciences Center of Biomedical Research Excellence.
The COBRE grant will help WVU develop innovative ways to prevent, treat and slow the progression of vision problems that are currently incurable. That's especially important for West Virginia, which has the second-highest rate of visual disability in the U.S.
"My goal is to use this funding mechanism to propel WVU and vision sciences in reducing visual disparities in our state," said Visvanathan Ramamurthy, the COBRE's principal investigator. "West Virginia has the second highest rate of visual disability in the whole country. By 'visual disability,' I mean something that you cannot treat with corrective glasses."
The $11 million was awarded by the National Institute of General Medical Sciences, a program of the NIH.
The COBRE will help WVU recruit researchers and clinician-scientists who can work together to develop innovative ways to prevent, treat and slow the progression of vision problems and blinding eye disease that are currently incurable.
Working as a group to help the individual
"Visual impairment is a terrifying prospect, particularly for a child or their parents and the elderly," said Ramamurthy, WVU's research director of ophthalmology, chairman of the Department of Biochemistry and professor in the Department of Ophthalmology and Visual Sciences. "Also, if you think about it, a lot of us lose vision as we get older. If you are slowly losing vision from age-related macular degeneration—or so many other things—the cumulative effect is quite pronounced. For example, challenges with vision are associated with an increase in falls. While changes in vision do not shorten your lifespan, there is a definite impact on overall health and well-being."
Three researchers have been competitively chosen to lead the COBRE's projects: Sadie Bergeron, assistant professor in the Department of Biology; Michael Robichaux, assistant professor with the Department of Ophthalmology and Visual Sciences; and Joel Palko, assistant professor and clinical faculty member with the Department of Ophthalmology and Visual Sciences.
Their collective experience encompasses conducting laboratory experiments and seeing patients.
"The idea is to think collaboratively," Ramamurthy said. "How can we make change? How can we translate our basic science findings to clinical practice that helps people? And how can we learn what's happening in the community? That's a connection we want to make."
"The combination of clinician and basic scientists, along with cutting-edge technology that will be enabled by the NIGMS support, positions the team to have real impact," said Laura Gibson, senior associate vice president for research and graduate education for WVU Health Sciences. "Importantly, the benefit is also felt by the outstanding graduate students who will be engaged in projects across various COBRE-supported labs. This COBRE lands at the perfect intersection of problems that need solved and a diverse scientific community that is ready to take them on together."
The project leaders who get COBRE support will receive three years of mentorship from senior scientists and experts around the country, who will mentor them toward independence.
Undergraduate students will benefit from this NIGMS investment, as well. Eight of them will participate in a vision science research program each summer and be exposed to breakthrough science focused on understanding the mechanisms behind blinding diseases.
A 'broader solution' for vision problems
Is education—or a lack thereof—one of the reasons for West Virginia's disparity in visual disability? What role does the state's high incidence of diabetes play in the problem? What about the state's widespread poverty, or the large percentage of its population that's 65 or older?
Scientists don't yet know the answers to these and similar questions. The COBRE, however, could help them find out.
"How can we reduce that visual disparity that we see in the state, and what could be the reasons for it?" Ramamurthy said. "There are some obvious things we can think about, but we need to better understand the contribution of suboptimal access and the response to current treatments. We don't fully understand this health disparity, but we need to think about the complex combination of factors that may be important."
What Ramamurthy, his colleagues and his students discover could have ramifications across—and beyond—West Virginia.
"There are a lot of places around the world that have vision problems that exceed those that we have in West Virginia," he said. "What we learn here in West Virginia is applicable to them, too. It's good in Kentucky. It's good in India. It's good worldwide. We want to part of a broader solution."
"Visual loss and blindness are a harsh reality for many people in our state and worldwide," said Dr. Thomas Mauger, who chairs the Department of Ophthalmology and Visual Sciences. "Our clinicians care for these patients every day and are excited about the opportunity to collaborate with our research colleagues to find new treatments for blinding eye diseases such as retinitis pigmentosa, glaucoma, diabetic retinopathy, macular degeneration among others."