NYC Doctors Describe COVID-19 Fight as Cases Surge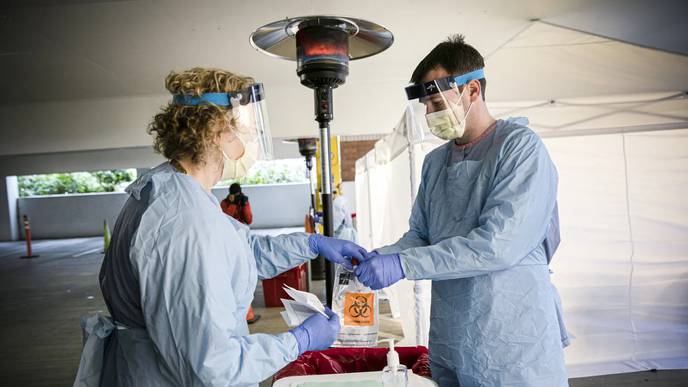 03/27/2020
Photo: John Moore/Getty Images
Overfilled waiting rooms packed with people who are contagious. Patients waiting six hours to be seen. Others on stretchers waiting 50 to 60 hours for a bed. Doctors desperately trying to get more ventilators. That is what it's like to be on the front lines of the coronavirus pandemic at a public hospital in New York City, Dr. Rikki Lane, an emergency room doctor at the Elmhurst Hospital Center in Queens, said.
"Our hospital has never, ever, ever seen anything like this," said Lane, who has worked for more than 20 years at Elmhurst, a public hospital with 545 beds.
Lane said the emergency department has been "overwhelmed" for about three weeks and the hospital is in desperate need of help as the coronavirus spreads across the city, which has become a fast-growing epicenter of the virus with more than 21,000 known cases and 281 deaths as of Thursday.
The hospital has spent weeks now expanding the areas within the facility that it has been using to house the coronavirus patients, but the ever-rising rush of patients has been "inconceivable," she said.
"Whatever space we create is immediately filled and overfilled," she said.
Doctors at New York City hospitals working in the fight against the coronavirus described a desperate battle to care for patients as cases continue to surge, with the peak of the disease still weeks away.
The hospital needs critical help with "everything along the supply chain," including supplies, staff, ventilators and bed space, Lane said.
"The need grows exponentially every single day," she said.
In the worst day that Elmhurst has seen so far, the virus claimed 13 lives in one day, which Lane said was "unprecedented."
"All of this is unheard of," she said.
The doctor said she has feared New York City could become as overwhelmed as Italy, where the virus quickly spread to more than 75,000 known cases and more people have died than in China.
"I know actual true horrors are coming," she said.
"It's just like a tidal wave," another Elmhurst Hospital doctor, who spoke on condition of anonymity, told THE CITY, an independent, nonprofit news organization. "The only beds we've been able to free up are people who have died."
Gov. Andrew Cuomo has said New York may need up to 140,000 hospital beds as the virus reaches its peak and has urged the federal government to send supplies, including tens of thousands of ventilators, to the state.
This week, hundreds of thousands of supplies were distributed across the state for immediate needs, including a million masks to New York City, but that will only last so long, Cuomo said.
The federal government was sending 2,000 ventilators to New York City, but the city is asking for 15,000, Mayor Bill de Blasio has said.
In Brooklyn, a doctor who works at a large hospital system said there had been critical shortages of swabs and masks.
The doctor, who asked to remain anonymous out of fear of retaliation, said hospital workers themselves are at high risk and she was scared of getting sick and infecting her family.
"I am scared to hug my own children," she said.
"We need space and beds. This is a war. I'm going into war and trying not to get killed," she said. "We are trying to go to work and not to die."
The city is also adding a new makeshift morgue ahead of the virus' surge.
"I know the morgues push a really strong emotional button, obviously. We're all humans," de Blasio said. "It's a very troubling thing to see, and it makes it very immediate, very visceral. It's going to be very, very painful."
Anthony Almojera, the vice president of the New York City Fire Department's EMS officers union, said EMS services had been receiving record calls.
"Last night we saw over 6,500 calls, the night before 6,400," he said. "The last week and a half we've been at 5,000 or more every day. That's more than 9/11. In the last two days, we've set records."
On Wednesday, Elmhurst hospital received about two dozen doctors and nurses from other hospitals, and a number of ventilators that help critically ill patients with their breathing, City Councilmember Francisco Moya (D-Queens), told THE CITY.
"It's very accurate to say it's overrun. I've spoken to workers at the hospital and you can hear it in their voice — it's a sign of desperation that they need help," said Moya, who was born at the hospital, used to work there as business development director and now represents the district it's in.
Christopher Miller, an NYC Health + Hospitals spokesperson told THE CITY: "Elmhurst is at the center of this crisis, and it's the number one priority of our public hospital system right now."
NYC Health + Hospitals, the city's public hospital system, said in a statement to NBC News it was "working day and night to ensure that all our patients receive the care they need."
There were more than 1,000 ventilators across the system and NYC Health + Hospitals was receiving an additional 400 from the city's Office of Emergency Management, it said.
The hospital system said it had "adequate supplies at the moment but are fully cognizant of the nationwide scarcity of resources" and "reports of lack of personal protective equipment and ventilators in our system are false."
"The public health system is working with all local, state and federal agencies to ensure that resources are strategically allocated throughout to accommodate the surge caused by COVID-19," the hospital system said. "We are committed to our mission to care for all New Yorkers regardless of immigration status and ability to pay, and are focused on keeping all our patients and staff safe."