RSNA Kicks Off in Chicago with New Imaging & AI Announcements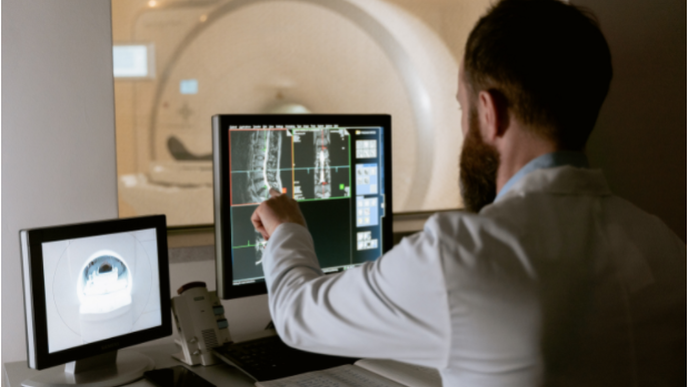 12/02/2021
Photo: MART PRODUCTION from Pexels
The 107th annual meeting of the Radiological Society of North America started on Sunday, a post-Thanksgiving tradition at Chicago's sprawling McCormick Place.
More than 19,000 attendees – with another 4,000 participants joining virtually – will spend the week exploring the newest advancements in radiology and imaging informatics, with more than 2,000 education sessions and showcases from some 500 exhibitors.
Here's a list of just a few early announcements from the show floor. It will be updated through the week.
Philips is touting new additions to its computed tomography suite – notably its new CT 5100 – Incisive, whose CT Smart Workflow offers artificial intelligence-enabled capabilities to speed workflows, enhance diagnostics and maximize equipment up-time.
"By automating many of the process-related obstacles to CT imaging performance, we aim to clear the way for precision in dose, speed, and image quality that will help imaging departments to meet their financial, clinical, and operational goals," said Frans Venker, Philips' general manager of computed tomography, in a statement.
Philips will also be showcasing other AI-powered tools, such as the recent MR 5300 1.5T system and the new MR 7700 3.0T system, which can automate time-consuming tasks for radiologists and technicians, and are designed to offer "operator consistency, and diagnostic confidence at the point of image acquisition."
Samsung will have an array of diagnostic imaging technology on display in Chicago – ultrasound, digital radiography and mobile CT, and more.
"We have worked to advance our solutions by leveraging high computing power and artificial intelligence technologies," said David Legg, Samsung's VP of Digital Radiography and Ultrasound, in a statement.
"We will be deploying AI features in each of our products to provide benefits to healthcare professionals and patients alike."
Among its new innovations, the company will showcase its new V8 – a high-end ultrasound system offering enhanced image quality, usability, and convenience using its Crystal Architecture technology – enabling advanced image clarity and penetration.
Two new AI functions are NerveTrack, which detects nerves and provides nerve location information in real time to anesthesiologists and expert practitioners, and UterineAssist, which detects tissue changes and assists the user in taking measurements of the uterus.
Samsung's Hera W9 and W10 have recently received FDA 510(K) clearance for several AI functions, such as HeartAssist, a deep learning-based function that provides classification of ultrasound images to display measurements, and BiometryAssist, an automatic solution for biometric measurement that can be modified by the user.
At RSNA, Samsung will also be showcasing new digital radiology and CT advancements, such as its premium digital mobile X-ray, the AccE GM85, and the mobile CT Scanner OmniTom Elite, respectively.
NVIDIA on Monday announced the open-sourcing of its NVIDIA FLARE, a software development kit that helps distributed parties collaborate to develop more generalizable AI models.
Officials say the goal is to make it easier for researchers to harness federated learning – a privacy-preserving technique that's useful when data is "sparse, confidential or lacks diversity." The approach can also help with large datasets, which could be biased by a particular organization's data-gathering methods, or its patient demographics.
FLARE – which stands for Federated Learning Application Runtime Environment – has been used for AI applications in medical imaging, genetic analysis, oncology, and COVID-19 research. NVIDIA says making open source will enable researchers and platform developers more efficiently build AI technologies and customize their federated learning tools.
GE Healthcare has unveiled some five-dozen new technologies at RSNA – including patient screening, diagnostics, therapy planning, guidance, and monitoring.
With health systems managing high volumes of COVID-19 patients, combined with the challenges of backlogged nonurgent care, clinician burnout, and workforce shortages, GE says its tools and imaging devices can help empower providers with AI and analytics, boost efficiency and productivity and expand access to care.
Among just some of the 60 or so new products being showcased in Chicago: SIGNA Hero, a 3.0T MRI system with new workflows and AIR Recon DL enhancements; Revolution Apex platform, which offers low dose scanning for routine and challenging cases in many care areas; AMX Navigate, GE's newest portable X-ray technology, featuring Zero Click Exam workflow to decrease X-ray technologist strain; Critical Care Suite 2.0, which offers a collection of AI algorithms embedded on a mobile X-ray device for case prioritization, automated measurements, and quality control; and Vscan Air, a wireless and pocket-sized ultrasound device designed to give clinicians quicker insights at the point of care.
This week Fujifilm is unveiling its new Velocity MRI System – a high-field open MRI system, designed to streamline workflow and enhance the patient experience with its integrated radiofrequency coils and reconstruction technologies.
Its anatomy-conformable Synergy Flex coil is billed the first of its kind for an open, vertical field MRI scanner, according to the company, and its open gantry offers a more a spacious feeling for claustrophobic, bariatric, geriatric, and pediatric patients.
Intelerad Medical Systems on Monday announced the launch of its new Intelerad Cloud DR. The disaster recovery system aims to give providers "secure, isolated and immutable copies of all medical images with unlimited capacity services," according to the company, helping mitigate against natural disasters, human error, IT failures or cybersecurity breaches.
Other benefits of include cost reduction (without the the need to procure, rack, and host extensive storage and disaster recovery infrastructure onsite) and the fact that it works independent from PACS and VNA systems, ensuring Cloud DR study copies are isolated from other storage sets on the network.