Schuylkill Radiological Sciences Grads Excel as Local Hospital Imaging Directors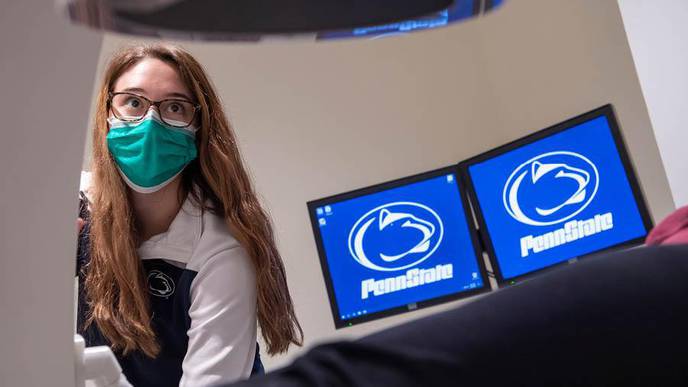 02/08/2022
Photo: Penn State. Creative Commons
Penn State Schuylkill's Radiological Sciences program has released its program effectiveness data for the five-year span between 2016 and 2020, revealing a history of great success for the program. This success is also reflected in the program graduates, most notably Steven Slackus (2007) and Maria Eisenhart (2002), who serve as directors of imaging at Schuylkill County hospitals.
Helping students earn their credentials and find work in their field
Penn State Schuylkill's Radiological Sciences most recent program effectiveness data reveals that:
95.8% of participants passed their credentialing exam on the first attempt, and
100% found employment in the radiologic sciences field within 12 months of graduating.
Program coordinator Hilary Yotko said, "We are extraordinarily proud of these numbers, which are much higher than our accrediting body's five-year benchmark of 75% for both the exam pass rate and employment data."
From student to teacher to director of imaging
Maria Eisenhart, a 2002 graduate of Penn State Schuylkill's radiological sciences program, is one such example of student excellence. Today, Eisenhart serves as the director of imaging at Lehigh Valley Health – Schuylkill, but she began her radiology career by giving back to the campus that had given her so much.
"After graduation, I accepted a job as a clinical instructor for the radiological sciences program at Penn State Schuylkill," Eisenhart explained, noting that she worked for the program for 14 years and values her connection with the instructors. "I have a high respect for the program — they produce excellent radiography students and make sure they are prepared for their career after graduation."
In her current role, Eisenhart oversees 70 employees in the imaging department at Lehigh Valley Health – Schuylkill, managing the department's budget, scheduling, and equipment replacement. The imaging department encompasses several subdepartments, including interventional radiology, nuclear medicine, mammography, cardiology, neurology, sleep, and more. "The most challenging part of my job is the ever-changing equipment in radiology," Eisenhart commented. "There are new challenges every day, but the staff I oversee always make it enjoyable to come to work."
The evolution of radiology is part of what has kept Eisenhart so engaged with her career over the past two decades. "We went from film to digital imaging, and it was a transition moving from film processing in a dark room to storing all images in a digital system," she said, "but the education that I received prepared me for all of the decisions that I have had to make in my career."
Eisenhart earned her bachelor's degree in applied health studies from the Pennsylvania College of Technology in 2017, but she still considers her most valuable educational experiences to be the clinical ones she experienced in her associate degree program. Her clinical experiences began with a year at Hershey Medical Center's level-one trauma center. This environment is an intense one to begin a career, but Eisenhart felt comfortable in the role. "You are definitely well prepared when entering the workforce after graduating from this program," she concluded.
Directing regional imaging services
Steven Slackus, a 2007 graduate of Penn State Schuylkill's radiological sciences program, has also forged an incredible career path since earning his degree. Slackus currently serves as the director of imaging services for six St. Luke's hospitals, including the new Geisinger St. Luke's location in Orwigsburg, Pennsylvania, and 19 outpatient facilities.
Like Eisenhart, Slackus also loves coming to work for the people he oversees. "In my health network, I feel as though we are one big family. We treat each other with respect and kindness, and we truly care about one another. I love our culture and I continue to practice that culture to this day," he explained. And even though he manages several locations, he said, "It's not overwhelming for me because I have a great team who makes it easy to go to work each day."
Adopting a family-style culture in his workplace was a holdover Slackus brought with him from his time as a Penn State Schuylkill student. "I loved the family-oriented classroom environment at Penn State Schuylkill," Slackus said, commenting on the small class sizes. "When I was a student there, the whole time I felt like I wasn't alone. In my radiography class, we were a team, and if one of us failed, we all failed, so we made sure that we all succeeded. I still interact with my classmates and teachers, and even work with some of them now."
Radiologic technology also challenges and inspires Slackus as it does Eisenhart. "Equipment throughout the radiology field is starting to be developed using AI software to help assist our technologists with imaging and our radiologists with diagnosing pathologies," he said. And he also enjoys incorporating that new technology into his everyday work, stating, "The most exciting parts of my job include developing floor plans and having the opportunity to innovate and implement creative ideas."
Slackus cited the clinical opportunities he had as a radiological sciences student as a major contributor to his success. "As a student, you learn about the X-ray department, how to position, and human anatomy; then in the same program, you practice what you learned under a registered technologist in a clinical setting. This program made sure you saw workflows at outpatient sites, smaller community hospitals, and level-one trauma center hospitals. It made me a well-rounded, confident technologist," he concluded.
In addition to many clinical opportunities, Slackus also felt well-prepared for leadership once he completed his degree. "My education helped me become a leader because a leadership/management degree had many similarities to a radiography degree," he said. "The X-ray field is an art. An X-ray is highly dependent on the tech performing the study to get the perfect picture for the radiologist. Their education and training is a huge factor in their overall skill level, and I look at management the same way."
Slackus has continued developing his skills and advancing his education to this day, having earned a bachelor's degree in business administration from Muhlenburg College in 2018, and he plans to earn his master of business administration from Kutztown University next.